Children`s Mental Health and Wellbeing
We all have mental health. Mental health is about our feelings, our thinking, our emotions and our mood. Looking after our mental health is important.
Looking after your mental health and wellbeing will help you to build your resilience and take on life's challenges. The five ways to wellbeing can help you do this.
1. Connect
This can be with friends or family members.
You can try:
• making time for your friends or family members to build your relationships;
• asking someone how they are and making sure you listen to them.
2. Be active
This can be gentle exercise.
You can try:
• going for a walk with family;
• doing a yoga or workout session online.
3. Take notice
Be more aware of your surroundings.
You can try:
• looking at the sights while you go for a walk;
• noticing the changing seasons.
4. Keep learning
This doesn't have to be in school or lessons.
You can try:
• a new hobby, such as cooking;
• reading about something that interests you.
5. Give
This doesn't have to be money.
You can try:
• cleaning, tidying, helping siblings or cooking.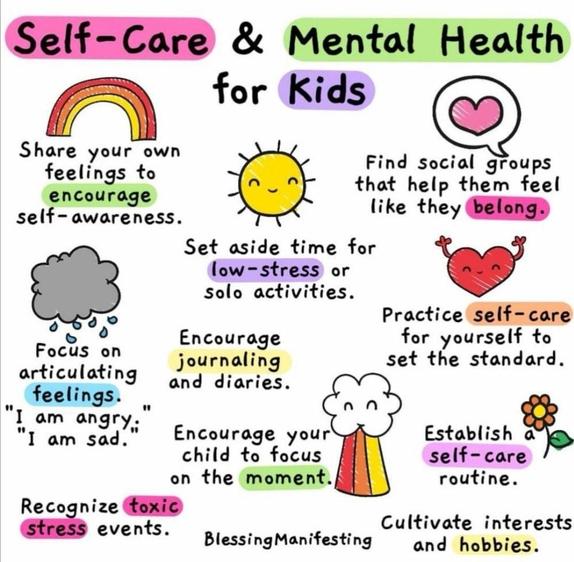 Why not try taking a look at the ideas on these websites?
We all have small feelings every day. These sometimes feel strong and overwhelming, whether they are happy or sad, but they go away before long.
Sometimes we experience big feelings. These feel strong and overwhelming for a long time. They can stop us doing what we want in out lives. If we have these feelings, it is really important that we ask for some help. You can speak to some one that your trust at home or at school.
Below are also some website that you may find helpful. Click on the pictures and they will take you straight to the websites.
Talking Mental Health is an animation designed to help begin conversations about mental health in the classroom and beyond. The animation and accompanying resources have been created by a team of animators, children, teachers and clinicians, and is being taught to year 5 and 6 children around the UK. For more resources, including the free Teacher Toolkit, please visit the Schools in Mind pages at www.annafreud.org.
Please follow the link to watch the animation. Talking Mental Health - YouTube